Tents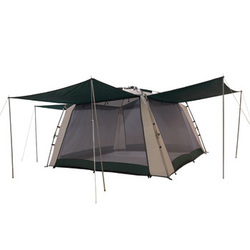 We carry a large variety of tents to meet many needs. We carry larger tents to sleep up to 7 people (such as the one shown) and we carry small ultra-light collapsable tents for a one-man carry. For a complete list of our tent options, send us a request and we will put together a list of available options. We are still putting together our product listing cataloque and we will have that available soon.
---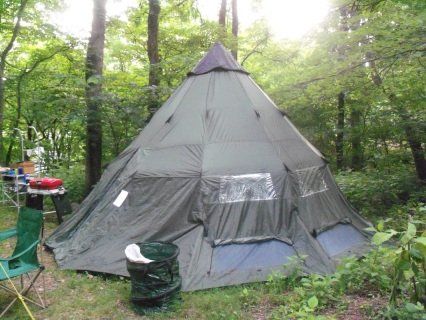 10x10 Teepee Tent - $112.46 + $20 shipping, Handling and Tax
This is the same tent mentioned in the listing above. The footprint for this tent is 10 feet by 10 feet with a 6 foot and 6 inches head clearance in the center. (yes, I used the same picture! But the tents are identical except for size!)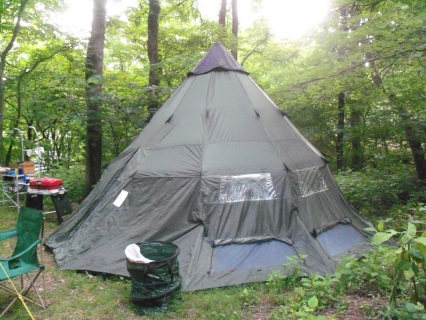 18x18 Teepee Tent - $191.21 + $20 shipping, Handling and Tax
This spacious teepee style tent is a pretty good buy. It is all one piece, including an attached floor. I have set this tent up and taken it down and could do so with no assistance at all. It has an 18 feet by 18 feet footpring and has a 9 foot, 9 inch head clearance in the center. Ventilation windows are low, so some placement of gear will have to have some forethought to keep circulation open, but it isn't difficult to accomplish at all. Total pieces of thsi tent are the tent itself, one collapsing center pole with buttress cup and tent stakes. I have had this tent up in the rain and had no dripping come through due to the thicker polyurethane coating. It sets up easy and takes down just as easy.