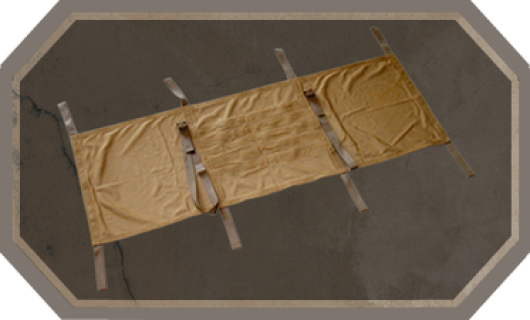 Pole-Less Litter - $59.95+10.75 Tax, shipping and handling
This is an ultra light weight pole-less litter designed to allow rapid evacuation from high risk areas. The TacMed pole-less litter has been constructed with high strength mesh to allow maximum drainage while minimizing size and weight. The material has been reinforced in the mid section to increase the useful life of the product well beyond what is expected of a standard poles litter.
Extra large handle loops allow for 'wrist wrap' grip or clipping into a sling.
• Weight: 2.5 lbs
•Folded Dimensions: 14" x 9" x 4"
•Unfolded: 72" x 26"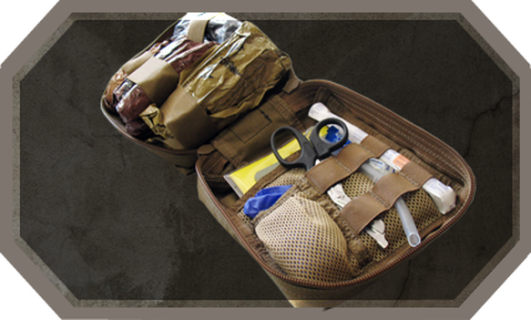 IFAK - Individual First Aid Kit (Drop Leg) - $104.00+10.75 Tax, shipping and handling
The TacMed Convertible drop leg pouch provides the individual with maximum flexibility without compromising the ability to provide on target care. This pouch can be worn on the leg or attached to a MOLLE style vest depending on the users'preference. The removable main panel allows for the creation of custom inserts to accommodate different mission profiles or to allow easier access to the kit contents. This pouch is offered stocked based on different levels of medical capabilities. All kits can also be custom packed to meet your specific requirements.
Dimensions- 7.5" x 7.5" x 4"
Contents:
- SOF Tactical Tourniquet-NH x1
- 4" Olaes™ modular bandage x1
- 6" Olaes™ modular bandage
- Blast bandage x1
- Zpack gauze x1
- Petrolatum gauze x1
- NPA w/ lube x1
- 5.5" Trauma shears
- 2" tape x1
-
Nitrile
Gloves x3pr
- Casualty card x1
•Consider adding:
- Surgical Airway Kit
- Hemostatic agents
- Chest Seal
- The Advance kit includes one 14ga x 3.25" angiocath in a hard plastic case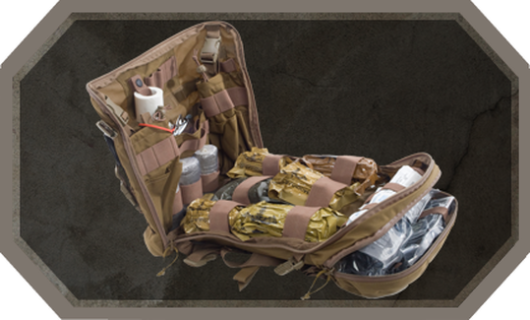 TAC-MED R-Aid Bag Medical Kit Bag - $265 +10.75 Tax, shipping and handling
Stocked to provide life-saving treatment to multiple casualties, the R-AID bag is ideally suited to work as an aid-bag, vehicle bag, or lifesaver bag. The bag can be worn as a backpack, hung as a pannel, or slung over a shoulder like a
messenger bag
. All critical
intervention
items are loaded in the top flap of the bag for immediate access. The second main compartment contains items required for additional treatments and casualty packaging. The rear sleeve contains triage and casualty marking materials. The bag provides one of the most compact, comprehensive treatment kits available. The contents of the kit provide a trained individual with the following capabilities:
–Hemorrhage control
–Basic and advanced airway management
–Packaging of burns
–Treatment of Penetrating chest trauma
–Splinting
–Treatment of eye injuries
–Triage and casualty marking
- Dimensions - 16" x 13" x 5"
• Contents:
•1-Aid Bag
•5 pair - Gloves (XL)
•2ea - NPA (28 Fr) w/lube
•1ea - TacMed Surgical Airway Kit
•4ea - Petrolatum Gauze (3\" X 18\")
•1ea -14 Ga x 3.25\" cath
•2ea - SOF Tournequet -NH
•3ea - OLAES Modular Bandage 4\"
•1ea - Olaes 6\"
•1ea - Blast Bandage
•3ea - Control wraps
•2ea - Z Pack Gauze
•2ea - Moldable Splint (4\" X 36\")
•1ea - Trauma Shear (7.25")
•5ea - CCT Card
•1ea - MED Patch