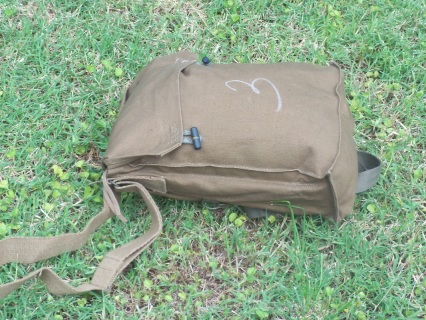 Surplus Czech Couriers Pouch - $12.19 + $5 shipping, Handling and Tax
Every Day Carry items need a good pack to have them in. This little bag is ideal for just that. I want to freely admit upfront this is not a very large pouch. In fact, this is one of the things I picked up just because my curiousity got to be too much! This pouch does have some good application though and I was pleasantly surprised at how useful it can be for EDC use. I can fit a poncho liner in it, a couple packets of food and a bottle of water. It has a few curiosities in it, such as a couple of small internal pouches. The bag has another strap that is supposed to wrap around your waist if you want. If you are leaving your campsite for a quick look around, or walking away from your vehicle, and just want to carry a few small things with you, this little bag can come in handy for a variety of small carry jobs. It makes an excellent Every-Day Carry items bag and is small enough you can easily put it in and take it out of your main pack.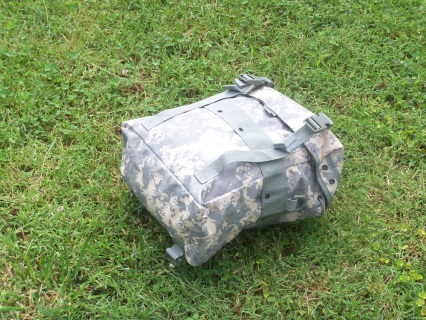 Mil-Tec ACU Digital Camo Buttpack - $28.09 + $10 shipping, Handling and Tax
In the old days the buttpack was the mainstay of a soldiers field gear. This is a modern interpretation of that pack. This is a good 24 hour pack. It is pretty simple as bags go, it is a simple pouch that is expandable to about twice the size you can see here. It has a shoulder strap so you don't have to carry it on a waist belt, but that is an option. I would use this pack as a 24 hour pack, but you could make it last as a 72 hour pack. It is surprisingly versatile. I carry my hygiene kit, coffee kit, a poncho liner, extra socks and t-shirt and some food packets as well as an emergency water filter in my butt pack as well as various every-day carry items. I also strap on some 550 cord and a few carabiners on the outside, and sometimes I stick an ax and field knife on the outside as well.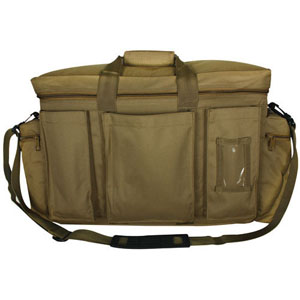 Fox Tactical Gear Bag - $44.96 + $10 shipping, Handling and Tax
The picture does not do justice to this bag. It is larger than the accepted carry-on size bag and has a large open storage area inside. Additional cargo pockets on the ends and open pouches on the front lend this some extra carrying options. Additionally the cover, when opened, has some additional pouches for pens and other items. The bag comes with a middle panel with velcro you can use to seperate the interior into compartments, or remove completely. Regardless, this is one of those bags you can get good use from. This is not the kind of bag you would really want to have to carry over the shoulder over long distances, but you could. It would be ideal for packing items away to a vehicle accessable camp site or storing items in a permanant camp site, or even at home.