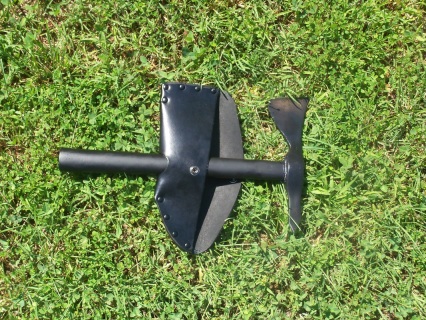 Tactical Tomahawk - $24.37 + $10 shipping, Handling and Tax
We have this good field tool to add to your kit. The Tomahawk has been a part of field craft since the days the Frankish tribes of Germany met the Roman Legions along the Rhine. Many evolutions have been created since then and it has a unique place in American frontier history. The tomahawk has multiple applications and that is why a good outdoorsman would want to have one. I have the tomahawk in addition to my camp ax, not in lieu of. My field tomahawk can be used to break up wood, it is easier to carry away from the campsite and if the situation arises it can be used in any number of applications. This is not the high-end version, this one is so you can have a decent tool with you but it will not be a significant event should you drop it out in the field and you can replace it, or get two or three to have on hand. This model comes with a wooden handle and a leather sheath as shown.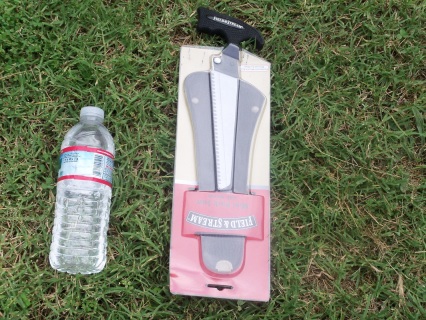 Field and Stream T-Handle Hand Saw - $12.17 + $5 shipping, Handling and Tax
This is another good tool to have in your bag. This tool makes a good small scale tool to use for light work. This saw is about the size of a good bone saw. We would never recommend a tool to be used in the outdoors as a tool for preparing game and for cutting and sawing wood, in fact, I never use a tool for wood I use for food. This is a great addition to use for a back up tool or for carrying around in a light pack as in some of those we also offer here!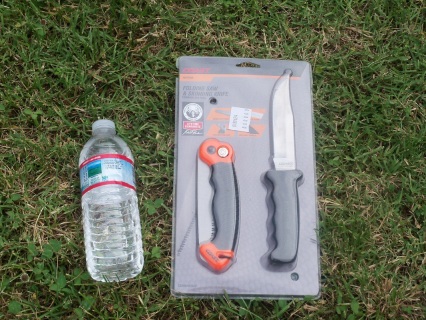 Camping Knife and Hand Saw Combo - $24.37 + $5 shipping, Handling and Tax
This is a decent field tool kit to have with you. Any outdoorsman will have several tool options and this combination kit gives you a good general use tool to throw in your pack. It also comes with a sheath for the field knife.